StreamSmart Premium Keyboard:

This remote uses both IR and USB to connect with your StreamSmart device. You need to point the remote directly at the StreamSmart to utilize the ORANGE FUNCTION buttons of this remote, the rest of the buttons work on USB and don't need line-of-sight.

If you are having problems with your remote, see the bottom of this post for instructions on how to reset your keyboard remote.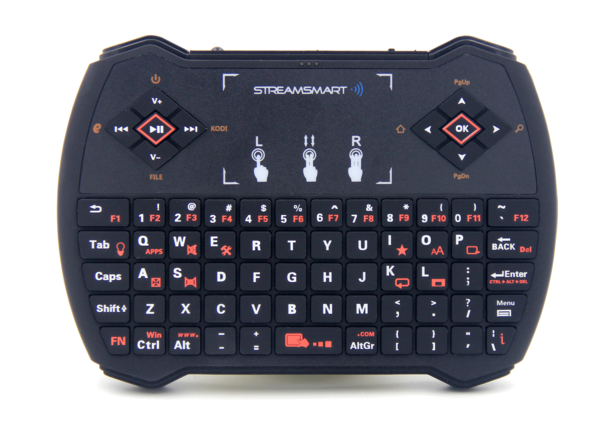 Keyboard Remote Controls

Global
R or L button on top = toggle mouse on To turn off push R or L then any arrow Top button inside left= enter or ok
Top button inside right= return or back V+ = volume up
V- = volume down Play/pause
FN+V+ = Power button
FN+F11 or FN+Fast forward = Red Kodi button
FN+Left Arrow = Android Home Screen Arrows on Right for navigation
Enter or OK = select
FN+E = old style setup screen
FN+F11 or FN+Fast Rewind = Google Chrome
FN+Tab = backlight
FN+i = favorites
FN+enter = reboot box

Navigation
Return = Back one menu C or Menu = Sub Menu FN+Page up = Page up
FN+Page down = Page down Back = refresh
FN+F6= media info

Playback
Info Button = info on stream X = stop
Ok or M = toggle player controls FN+right arrow = Back to Kodi main screen
Z = zoom  (toggles zoom setting)
Up arrow on Right side= skip ahead 10 minutes Down arrow on Right side = skip backwards 10 minutes
Right arrow on Right side = skip forward 10'seconds Left arrow on Right side = skip backwards 10'seconds F = fast forward
R = rewind
Fast Rewind = fast rewind Fast Forward = fast forward
FN+A = View Mode Information ctrl+arrow = Move subtitles position up and down
Tab = toggle inlay and off
[numbers] then left arrow = jump backwards in that amount of time
[numbers] thenOK = jump to that exact time Ex: 1500 =15 min 0 sec
 [numbers] then right arrow = jump forward in that amount of time FN+W= mute
FN+S= audio offset FN+K= 30 sec rewind Space bar = pause/play

Mouse Pad
Right or Left top buttons to toggle on or off 1 finger to move around like a mouse
2 fingers to scroll 3 fingers to swipe



My StreamSmart Keyboard remote doesn't work

1.  Open the back panel on your remote and remove the small square looking thing (USB Dongle)
2.  Plug the dongle into one of the USB ports on your box
3.  Slide the on/off switch on the remote to on
4.  Charge your remote tonight. It should have enough juice for today but not a full charge
5.  Try another USB port on the StreamSmart box

If that still doesn't work try to pair the USB dongle with the remote

1. plug the USB dongle into a computer.
2. Turn off the keyboard remote.
3. Press and hold FN + Z until you see the orange light flash a few times. This will pair the dongle to the keyboard.
4. Unplug the dongle and put it back in the StreamSmart and try the keyboard now.

Click link to print manual: http://tiny.cc/sskb